Occasionally I will arrive at a wedding site I have not previously seen. This is rare, but happens. Today's wedding was located at a place called Central Park West – The Shelter.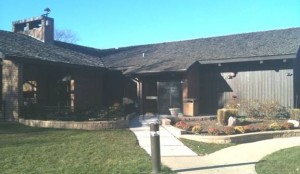 It's part of the Oak Brook Park District. The name implies an open-sided picnic shelter, but this site is actually a wood and brick structure with a fireplace at one end of the room. The location comfortably seated the 120, or so, guests. The couple did not host the reception at this location, however, the Park District attendant said they do hold receptions in this location.
If this sounds like it fits you, check out the location: 1500 Forest Gate Rd in Oak Brook (near the McDonald's campus).