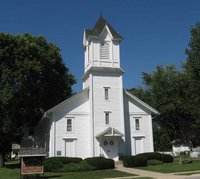 Yorkville - The Chapel on the Green is again available for events. You may find this chapel to be a more affordable alternative to other wedding venues in the far-western suburbs. After the Kendall County Historical Society divested its interest in this historical site, a not-for-profit organization was formed to reopen this quaint white church. The Chapel on the Green is now operated by the Chapel on the Green Historical Society and can be rented for weddings, baptisms and other events. The lower level is also available for receptions and events.
The Chapel on the Green was built in 1855 and is the oldest church building in Kendall County. The restored pipe organ dates back to 1899. The bell in the bell tower works and can be rung as the bride and groom exit the chapel.
The Chapel on the Green is located at 107 West Center Street (corner of Church and Center Street) in Yorkville, Illinois.
Don and Bev Ament still coordinate reservations and can arrange a tour. You can contact them at 630-553-5070 or by emailing: reservations@chapelonthegreen.org. More information is available at chapelonthegreen.org