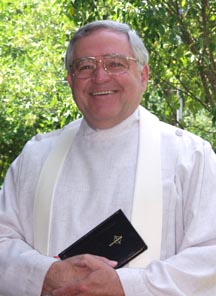 "I do not believe you can effectively serve others unless you are willing to accept everyone where they are, as they are, and without judging. For this reason, I am blessed with the opportunity to serve people from many different faiths and traditions."
Rev. Roy Frye is the director of
Service Ministries
, a ministry of the Christian Congregation. He was ordained in 1993 by the Christian Congregation (a denomination dating to 1887) following graduation from Trinity Evangelical Seminary. Rev. Frye chose to earn a Master of Ministry degree, a degree not typical of most ministers. "I wanted to focus on serving people...and I felt this course of study would help accomplish that goal."
While serving as a pastor in Oswego, Illinois, Rev. Frye was given an opportunity to serve as a chaplain in a medical center - where he continues to serve.
Service Ministries' mission to serve people is accomplished without preference to personal religious beliefs.